Closed for Super Bowl Sunday!
Just wanted to remind everyone that we'll be closed tomorrow, Sunday February 1st, for the Super Bowl festivities!
Here's a pair of custom earrings I made for a dear friend for the occasion. Typewriter keys for the 12, topaz, pearl and peridot confetti! Enjoy your day tomorrow and we'll see you next week for regular shop hours.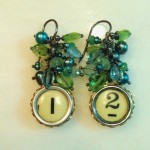 This entry was posted on Saturday, January 31st, 2015 at 6:50 pm and is filed under Shop Updates. You can follow any responses to this entry through the RSS 2.0 feed. Responses are currently closed, but you can trackback from your own site.